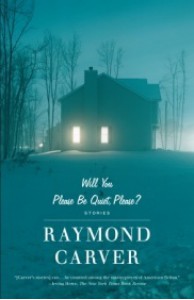 As I finished each story, I would go back to the table of contents and rate each one from 1 to 5 stars. Then, at the end, I calculated the average and came up with 3.36 stars.
However, after reading the last story, which to me was far and away the best one, I though I might have been a little generous with some of my previous stars.
Anyway, the stories themselves were pretty good, a lot of them leaving me with an uncomfortable and sometimes creeped-out feeling at the end, but I'm not sure if it was the brevity of the stories that left me ultimately unsatisfied, or the he said/she said/he said minimalist conversation style that he used. I guess it was probably a little bit of both. I still prefer Alice Munro as a short story writer, but I wouldn't rule out giving Carver another go at some point in the future.